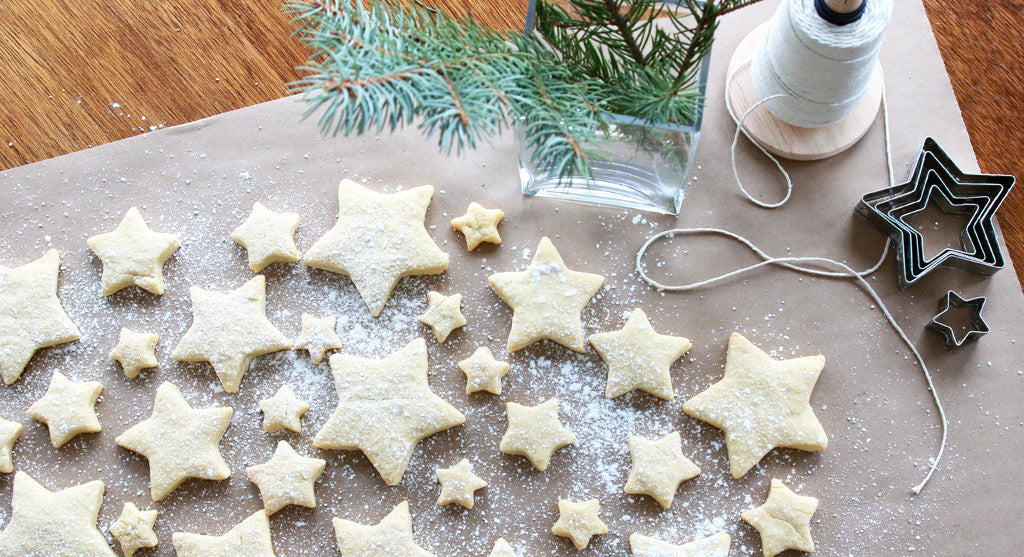 Odette Williams' Vanilla Sugar Cookies
Odette Williams' keepsake aprons inspire kids to get in the kitchen, so when she offered to share her favorite cookie recipe with us we knew it would not disappoint. Odette's go-to recipe hails from One Girl Cookies, a bakery in Brooklyn where Odette also lives, and yields delicious results.
We had to test it for ourselves, of course, and the simple steps result in light but buttery sugar cookies that are great for any occasion. We made them perfectly festive for Christmas using star cutters and a dusting of powdered sugar. It's no wonder Odette includes the recipe on a thank you card with orders placed on her site, they're that good. 
INGREDIENTS
2.5 cups flour
1/2 tsp baking powder
1/2 tsp salt
10 Tbsp (1 1/4 sticks) unsalted butter at room temp
1/2 cup sugar
2 eggs
1 tsp vanilla
Preheat oven to 350 F. Whisk flour, baking powder and salt together. Set aside. Beat butter and sugar until mixture has begun to lighten in color and texture. Add egg and vanilla. Incorporate dry mixture. Scoop 1 1/2 Tbsp, roll in palm of hands and gently press. Place on lined baking sheet. Bake for 14-16 minutes. 
Happy baking!