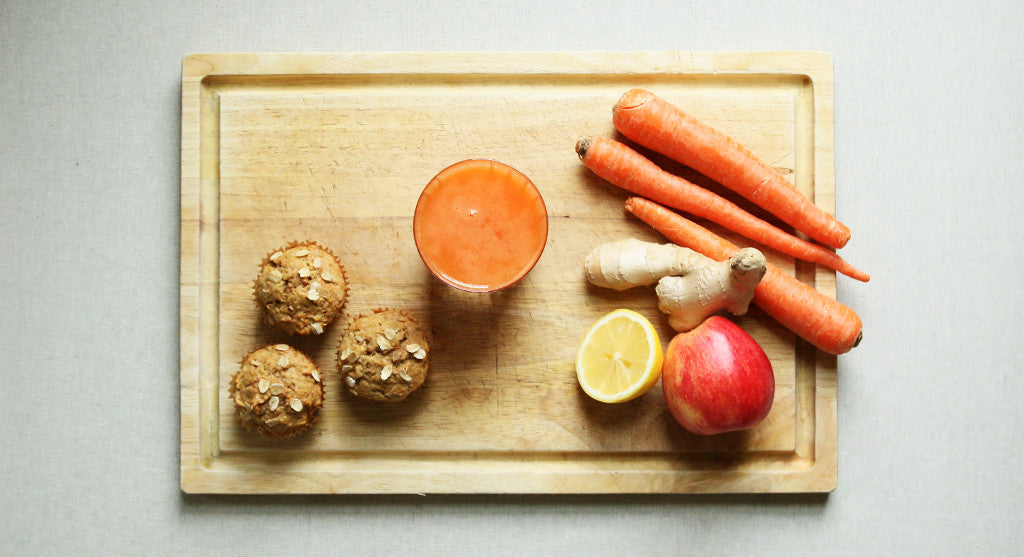 The Healthy Juice and Pulp Muffins We Can't Stop Making
It's so easy to fall into a ho-hum breakfast routine, so I'm always experimenting with new recipes that are healthy and simple and equally enjoyable for adults and kids. One healthy habit I don't do often enough but love when I need a refresh and a morning pick up is juicing. My go-to is a delicious combination of carrots, apples, ginger and lemon, which has just the right amount of sweetness and zip. Packed with vitamins, it's such a great way to start the day.
Juicing takes a lot of produce and I hate to waste the leftover pulp, so I then fold all that shredded fruit and veggie into muffins. I simply adapted a personal recipe for zucchini-lemon bread (substituting in the pulp and reducing the sugar) and love the slightly sweet, fiber-rich results for breakfast or a snack. Plus, my 2.5 year old loves them too!
xx Lauren
INGREDIENTS
For the Juice:
4 Gala apples
8 carrots
1/4-1/2 lemon
1" piece ginger
For the Muffins:
3 cups all-purpose flour
3 teaspoons cinnamon
1 teaspoon baking soda 
1 teaspoon baking powder
1 teaspoon salt
3 eggs
1 cup canola oil
1/2 cup sugar or maple syrup
3 teaspoons vanilla extract
2 cups fruit + veggie pulp
Handful of old-fashioned oats
INSTRUCTIONS
To make the juice:
In a juicer, process carrots, apples, ginger and lemon, reserving the pulp. Divide juice between glasses and enjoy while you prep the muffins or store in the refrigerator for a few days.
To make the muffins:
Preheat the oven to 350º. Grease a muffin pan or line with baking cups. In a medium bowl, sift together the flour, cinnamon, baking powder, baking soda and salt. In another medium bowl, whisk together the eggs, vanilla and sugar or syrup until smooth. Slowly fold the dry ingredients into the wet until just incorporated. Stir in the juice pulp and combine.
Divide the batter between 12 muffin cups, about ¼ cup of batter per cup. Sprinkle oats over each muffin. Bake until a toothpick inserted in the middle comes out clean, about 30 minutes. Let cool completely and enjoy!