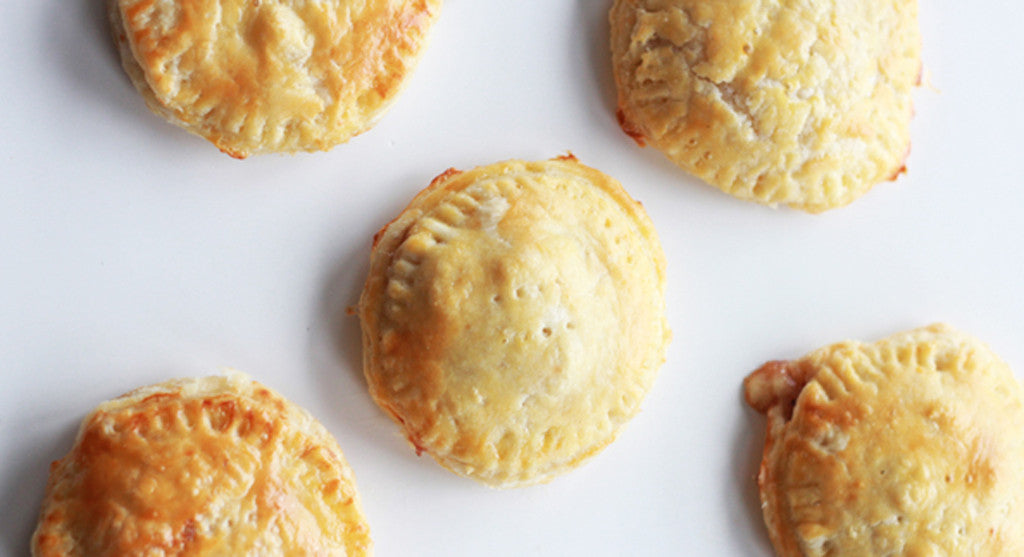 Thanksgiving Leftover Hand Pies
Have you ever had a family Thanksgiving meal that didn't end with leftovers? Didn't think so. Our favorite way to use what's still hanging around the next day is to transform some dishes into personal-sized hand pies for lunch. Kids love them, and frankly, we do too. It's a great way to use up some of that leftover turkey and cranberry sauce and a good excuse to throw in some creamy brie. Substitute ham, chicken, sweet potatoes, even butternut squash if your family meal doesn't revolve around a massive turkey.
INGREDIENTS
Ready made chilled pastry dough (we can also vouch for this recipe if you're feeling extra ambitious)
Plain flour for rolling out the dough
Cooked cold turkey, cubed
Brie, cubed
Cranberry sauce or relish
1 egg, beaten
3 tablespoons milk
On a heavily floured surface, roll out dough to 1/8″ thick. Using a round cookie cutter or the rim of a red wine glass, cut as many circles as you can. Recombine and roll out the discarded dough and cut as many additional circles as you can, shooting for an even number of circles. 
Have the kids help with this part: Spread cranberry relish on one half of the dough rounds, then top each with turkey and brie. Place the remaining rounds on top, pressing gently with fingers to close, then use a fork dipped in flour to crimp around all the round edges. Using the fork, also be sure to prick the center of each pie to allow steam to vent during cooking.
Whisk together the egg and milk in a small bowl. Brush the egg-milk mixture onto the top of each pie to help them golden and prevent burning. Bake in a 375 degree oven for about 15-20 minutes.