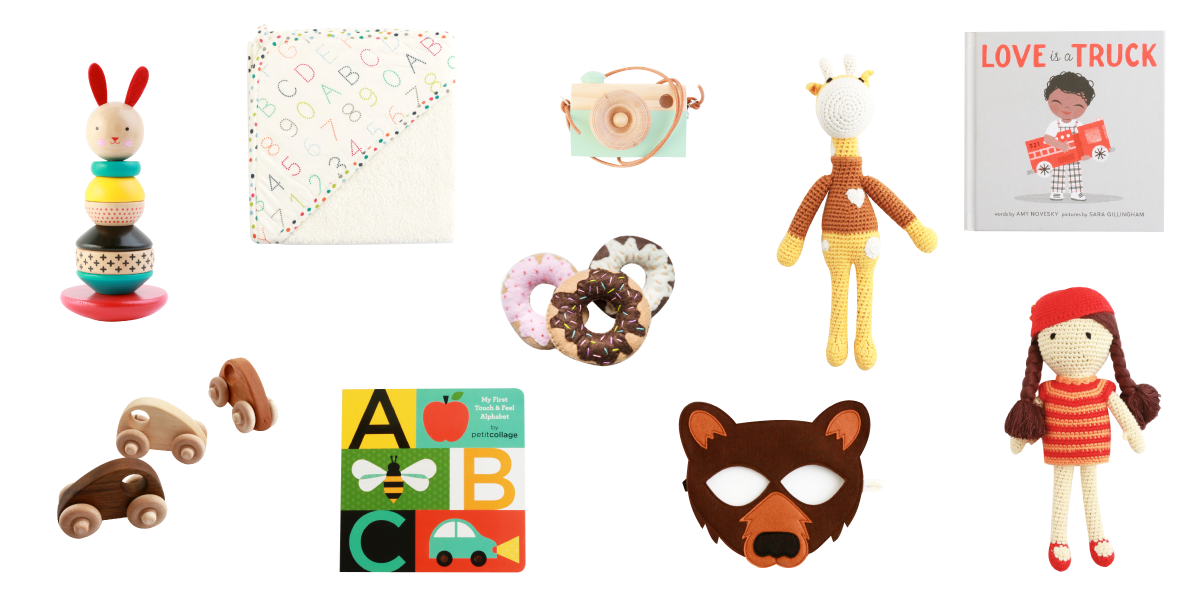 Our Favorite Toddler Birthday Gift Ideas
I'm always on the hunt for unique birthday gifts for my daughter and our friends' children that are well-designed and offer tons of play value. With so many options out there, it's hard to know where to start. To make it a little bit easier, we've rounded up our favorite gifts for the littlest ones (ages 1-3). Many of these items I've personally gifted, and they've been a hit with both the parents and kids. Check out our birthday picks for boys and girls below. And for easy reference, you can now shop gifts by age right from the Gifts category at the top of the site! 


1. Petit Collage Day & Night First Words Book ($10): Build your boy's budding vocabulary with this colorful book about morning and nighttime routines.  
2. Petit Pehr Noah's Ark Pint ($26): The classic ark story comes to life on this adorable storage bin, perfect for storing toys.
3. Sugar Maple Toys Wood Mini Racer Cars ($30): Vroom, vroom. This set of handmade wood cars is ready for racing and always a classic.
4. Cheengoo George the Giraffe ($36): Our George doll is ready to join your little one on his next big adventure or keep him company at night.
5. Petit Pehr Alphabet Hooded Towel ($40): Bath time is a lot more fun with this playful hooded towel.
6. Duck! Rabbit! ($8): Is it a duck? Or is it a rabbit? The clever illustrations in this board book will make kids look twice! 
1. Petit Collage ABC: My First Touch & Feel Alphabet ($12): Little ones will build their sensory skills and start to recognize ABCs in this touch and feel board book. 
2. Petit Pehr Multi Pom Pom Pint ($26): A whimsical take on nursery storage. Perfect for collecting her current favorite toys or books.
3. Petit Collage Animals and Babies Memory Game ($14): This memory game is a great gift that will grow with her. She can practice animal recognition and then learn to match animals with their babies.
4. Petit Collage Modern Bunny Wood Stacking Toy ($25): Bright colors and a retro-inspired design give the classic stacking toy a fresh look. 
5. Cheengoo Amelia Doll ($38): Perfect for snuggling or playing, sweet Amelia makes a great companion for little girls.
6. Petit Pehr Painted Dots Hooded Towel ($40): This hooded bath towel will keep your girl warm and cozy. Bonus: it can second as a superhero cape for post-bath fun!
1. Petit Collage Jumping Jumbo Elephant Pull Toy ($22): This friendly elephant has a fun surprise--he jumps when you pull him!
2. Opposite of Far Felt Bear Mask ($24): There won't be any hibernating when your boy tries on this sweet bear mask. 
3. Petit Collage Safari Jumble Wood Puzzle ($38): Your house might look like a scene from Jumanji after your little one gets his hands on these organically-shaped animals. 
4. The Lovely June Black Toy Camera ($25): Perfect for future shutterbugs. Say "cheese!"
5. Love is a Truck ($13): An ode to all things truck, a perpetual favorite of little boys.


1. Raine & Skye Mini Voyager Purse in Silver Metallic ($26): Have a girl who's gaga for all things shiny? She'll fall hard for this sparkly purse. 
2. Opposite of Far Snowy Owl Mask ($24): Whooo is it? This fun felt owl mask is sure to become dress-up box staple. 
3. Meri Meri Cat Felt Hair Clips ($8): These not-so-grumpy cat clips will make your girl smile from ear to ear. 
4. Ellie and Pug Felt Donuts with Icing ($12): These sweet donuts look good enough to eat! A tasty treat when she "cooks" breakfast or gathers her friends for tea.
5. The Lovely June Beach Blue Toy Camera ($25): Perfect for adventures on the go or at home. We love its beachy, seafoam hue. 
6. Love is a Tutu ($13): Love comes in lots of forms in this book, including a tutu!