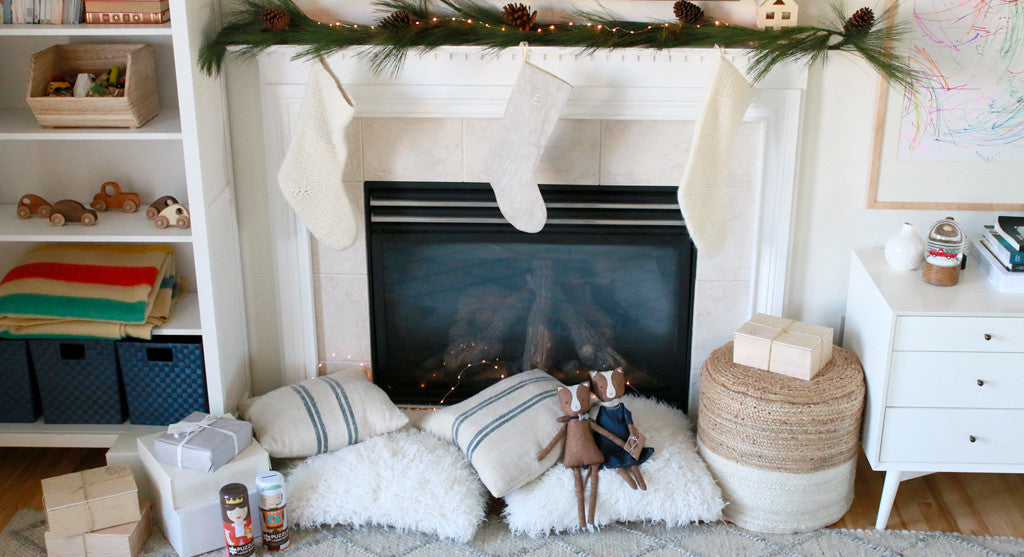 Our Favorite Holiday Gifts for the Kids
The holidays are coming! A wonderful time of year. And with it, the hustle and bustle of making travel plans, finishing last-minute work projects, decorating for parties, baking delicious treats, and maybe avoiding conversations with that one awkward relative everyone seems to have…


With so much to do, finding the perfect gifts for all the kids (and moms) in your life can be daunting. But we've got you covered. Let us introduce you to 10 of our favorite giftable toys, books, décor, and other unique goods from our mom-made brands. These special gifts have been handpicked by our team and many have received an additional stamp of approval from our chief product-testing officer (she's 2 and very experienced, especially in the toy department).


With her casual-chic denim dress and cozy scarf, Pippa is all set to keep your little one company on blustery snow days. When it's time for bed, she can make a quick switch into her nightgown (tucked inside that little package) and then she'll be ready for story time.


2) The Wish Tree from Chronicle Books
No matter what your tot is wishing for, he'll love this heartwarming story about friendship and surprises with seasonally perfect illustrations.
3) Kids Apron & Utensils from Odette Williams
If you know a child who always ends up covered head to toe in flour or cocoa powder while in the kitchen (it's like they're magnetically attracted or something), you'll want to get them one of these classic cotton aprons. Pink stars, blue linen, denim, or railroad stripes—your choice, but we think they're all good options.
4) ABC: My First Touch & See Alphabet from Petit Collage
Give your early reader a head start with this brightly illustrated book. Engaging textures and patterns will help them learn every letter from A to Z.
5) Black Toy Camera from The Lovely June
Click, click, click! None of your friends and family will be able to resist posing for your tiny photographer after he finds this fun camera in his stocking.
6) Glitter Bow Hair Pins from Meri Meri
Brighten up your girly girl's holiday outfit with these playful bow hair pins. Because who doesn't love a little glitter?
7) New Mom + Babe Kit from Fig + Moss
The soothing scents of lavender, chamomile, calendula, and other all-natural herbs in this kit are the perfect antidote to the extra stress of holidays. 
8) Wood Classic Buggy from Sugar Maple Toys
A timeless toy that will be loved all year long, this handcrafted car is made from walnut trees sustainably grown right here in the USA.
9) Flax Mini from GATHRE
Expect appreciative hugs from the mom who receives this stylish leather mat. Easy to clean and available in three neutral colors—flax, blanc, and tannin—she'll be using it to catch flying cookie dough in the kitchen and glitter spills at the craft table.
10) Sidekick Blanket from Petit Pehr
Designing your own modern nursery? This new sidekick blanket from Petit Pehr has a classic pattern that will be a stand out in any child's room. Pick your favorite color—ocean, fuchsia, or navy!
And one more, because we just couldn't stop at 10 when we have a little something else up our sleeve.
If you're still feeling overwhelmed by so many good options, let us make it extra easy on you. Grab one of our limited-edition, curated boxes already filled with cool stuff. Whether it's for the girl who loves to dress up, the aspiring chef, or the on-the-move explorer, there's a box for everyone. They even come ready for gifting in our simple signature kraft and twine wrapping, topped with a special holiday ornament. Just add the recipient's name and slip it under the tree!