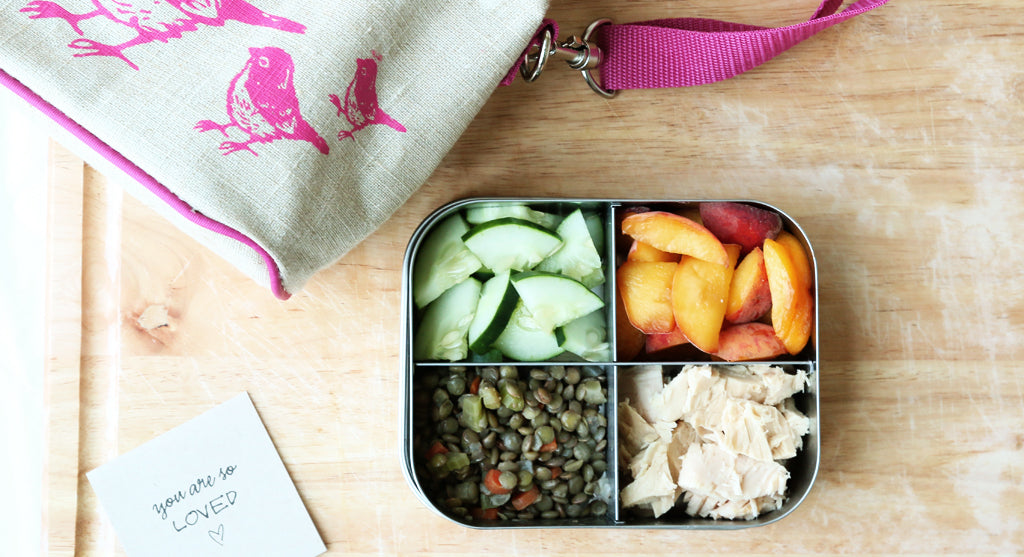 Back to School Lunchbox Ideas
It's hard to believe that summer is nearly over and that school has already started in many places south of us! My daughter is headed to preschool in a few short weeks, and her Montessori school has requested healthy packed lunches in kid-friendly containers. I always try to create variety for her with different proteins, grains, fruits, and veggies each day; so I thought it would be fun to share a few yummy combinations we love -- hopefully they'll give you some ideas when you're stumped or in need of inspiration!  xx Lauren
Turkey and cheese roll-ups are a kid favorite, I just sneak in some spinach and use hummus to bind everything. Add kiwi slices and some homemade chocolate, sun butter and date energy balls for a sweet but protein-filled treat. 
My girl is all about hummus dip, so this is a riff on one of my own favorite vegetarian lunches -- a "Mediterranean plate." Hummus, high-protein pita bread, zucchini and red peppers for dipping, some feta, and olive tapenade (if your little one is into it!). 
Leftovers are always a win -- like shrimp fried rice with edamame, corn and carrots. Add a favorite fruit (watermelon until they're gone!), a whole-grain or seed-and-fruit bar, and some yogurt. We love Siggi's yogurt because it's way lower in sugar than most and with high protein it's a sneaky way to get in extra nutrition.

Some days, simple is best. Flaked tuna pairs with anything, like cooked lentils, cucumber slices and juicy late-summer peaches.
Not pictured, but another lunch favorite in our house: a chicken and cheese quesadilla with diced avocado and black beans. Always, always a winner. 
Here's the bento-style lunchbox container we're using for school (LunchBots was started by a mom!). Elsie loves her food groups separated, plus it keeps the food fresh and makes for easy prep the night before. The stainless steel is dishwasher safe and the top is easy enough for a 3-year-old to open!
Shop the Story